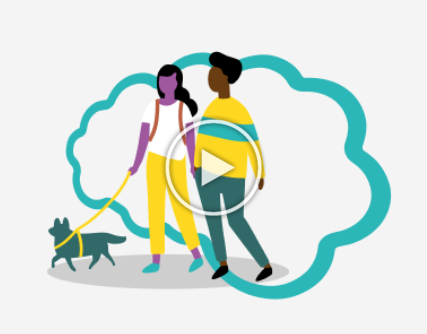 Connect with Colleagues
Our social connections are vital for our wellbeing; they give us a sense of belonging, and help us to feel happier and healthier. They provide us with support and allow us to give support to others. People who feel more connected to others have better physical and mental health, and may even live longer.
Our social connections also make life more interesting, helping us to appreciate the perspectives and experiences of others. Having strong social bonds at work makes work more enjoyable, fosters inclusivity and can boost engagement and performance.
This wellbeing week we are celebrating our connections with colleagues by encouraging you to build on existing connections and make new ones.
Why it matters &nbsp&nbsp
Social connections have a positive effect on your social, emotional and physical wellbeing, which in turn have a positive effect on your social connections – a positive feedback loop.
High levels of social connections:
Result in lower rates of anxiety and depression


Increase self-esteem and empathy


Strengthen the immune system


Speeds up recovery from disease


Results in better emotional regulation


Helps us to handle stress and makes us more resilient to stressful life events


May even lengthen life
How to get involved &nbsp&nbsp
Say thank you to a colleague:
Create an appreciation board in your break room and invite colleagues to post a thank you note to someone that has helped them, shown them kindness, done a great job, welcomed them, made them laugh, anything!


Download an ecard and email it to a colleague to say thank you.
Build on existing connections or make some new ones:
Arrange a team lunch event or team BBQ


Introduce yourself to a new colleague/ offer to help a colleague


Arrange a team social event - virtual or in-person


Smile and say hello!
Find helpful hints and tips on starting conversations and keeping them going below, or take a look at the resources for more information.
Resources &nbsp&nbsp
Resource
Building Relationships and Maintaining Connections
Ideas for Building Work Relationships
Videos
7 Tips to Hold a Conversation With ANYONE!
5 Ways to Create Stronger Connections
If you require further support, please visit wearemenzies.com/wellbeing or speak to your line manager or your HR representative.
Before starting a conversation, plan what you want to talk about. Having a topic helps to stop conversations drifting aimlessly and ending up with awkward silences while you think of what to say next.
Does your conversation topic fit the situation, or the person you are talking to? You wouldn't ask a new friend at a party for a job promotion, but the same conversation would be appropriate with your boss at work.
The right conversation needs to have the right timing. For example, a formal meeting with colleagues wouldn't be an appropriate time for a very personal conversation, and you wouldn't ask your boss for a new job while in a lift full of people.
Ask questions. If you struggle with conversations then asking more questions than answering can be very helpful. Just make sure that you listen to the answers so that you can ask appropriate follow-up questions. Stay on topic and be interested!
When you meet someone new, stick with topics that they are unlikely to have a personal connection to, like the weather, food or movies. When you know someone better, you could add in subjects that people can feel strongly about, like politics, romance or the news. Save personal topics like family or health for close friends and family.
Complaining and gossiping aren't helpful when we meet new people as they put a negative spin on the conversation. If asked a question, you do not need to lie, just try to demonstrate a good attitude. Being positive makes you more approachable and fun to have a conversation with.
End your stories with a question, like "What do you think?" Conversations are like a game of catch, and this is you throwing the conversation back to keep it going.
Have more conversations. Like any other skill, the more we practice having conversations, the better we get at having them. So, start today, and CONNECT with your Menzies Aviation colleagues!
Previous
Next